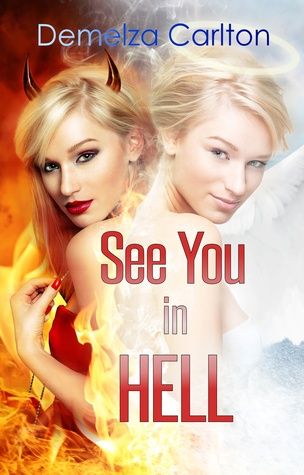 Series:
Mel Goes To Hell
Format:
Mobi
Release Date:
April 30, 2014
Publisher:
Lost Plot Press
Source:
Author via
Literati Author Services, Inc.
Genre:
Paranormal | Chick-Lit
Hate your job? Try working in HELL! Melody Angel takes a job as a temp at the HELL Corporation. Surrounded by eternal bureaucracy gone mad, demons who love making life miserable, and dying for a decent coffee, it may take a miracle for Mel's mission to succeed. She must find out what evil plans the Lord of Lies has up his sleeve and stop him, using any means necessary. Lucifer and his minions are out to take over the world, but there's more than money at stake when the Devil drives. Adding trouble and temptation to Mel's job is Luce Iblis, the damnably hot CEO, who has set his smouldering eyes on the new office angel and is determined to claim her, body and soul. Can ultimate evil and angelic perfection escape a limbo of desire and find a paradise of their own?
SEE YOU IN HELL by Demelza Carlton feels more like a corporation satire than a straight-up humorous paranormal romance story. Word is that Lucifer is planning another bout for world domination via the corporate world. As the angels won't allow this to happen, Raphael sent Melody to infiltrate HELL Corporation to spy and foil Lucifer's plans. What happened instead is Lucifer and Melody fell in love, the question is, where and how does an angel and demon live their HEA?
I find the premise to be interesting but it took me a while to settle into SEE YOU IN HELL. The humor is like that TV show, The Office, there's mild politicking and butt kissing going around, as well as breaking the barriers of stereotypes and cliques. I didn't quite connect with the main characters, Melody needed to be fleshed out more while Lucifer was anything but Lucifer. Meaning, he's not broody, grumpy, intimidating or even scary, instead Lucifer was very inappropriate and quite approachable. The plot overall was humorous but it needs a bit of tweaking on some areas to enhance the emotional peaks and troughs. It ended with a conundrum which begs the question, how can Melody and Lucifer pull this love affair of? Really it's the ultimate forbidden love, The Devil is in love with an angel who won't give up her wings, how can it get messier than that?
I had a few laughs over a few scenes that were either outrageous or ridiculous from Melody's daily corporate life, demons addicted to coffee, crude corporate party jokes, to crisis situations involving aliens, a giant lobster, frogs and veterinarians. DCarlton also added a few well known characters to the mix like Lilith, Persephone, and Beelzebub among others. I do get why she used the corporate world as a stage for Hell, it does make a lot of sense and the similarities are endless, it's very tongue-in-cheek and as a former corporate slave, I related to SEE YOU IN HELL on that level [I'm a former demon]. If you're curious about this series, book 1, Welcome To Hell, which is more of a primer since it's only 40 pages, is FREE on Amazon, grab a copy and test the waters of DCarlton's Hell, you might end up liking it too.
"Great, we'll see you in Hell at nine on Monday morning!"
How can an angel survive in a corporate Hell?
Mel accepted a job in the Health, Environment, Life and Lands Corporation - otherwise known as HELL.
Dying for a decent coffee, surrounded by bureaucracy gone mad and demons who just love making life difficult, Mel must find out what Lucifer and his minions are really up to – before his Corporation goes global. Mel's no ordinary angel, but she's never dealt with demons before.
Could the seductive CEO really be Lucifer himself? Are Luce's lusty looks all they seem, or is he after more than Mel's body? Does he have a hope in Hell with her, anyway?
He's about to find out that this sweet angel's soul is not for sale.
A tiny taste of what's in store:
"Do you know how long you've made me wait?" Luce lifted his chin. "Close the door."
Mel turned and kicked the door shut with the sole of one shoe. The click of it closing coincided with her eyes meeting Luce's once more.
"Now strip and get your arse on the desk," Luce instructed.
Mel stared at him. He couldn't be serious, could he?
"Every other girl in this building knows how to do as she's told. Do you know how many girls I've had on this desk? You should consider yourself lucky. The last one I had in here was so quick getting undressed that I managed to give her a full fifteen minutes of my time. At this rate, you'll be lucky to have five."
Mel became transfixed by the timber desktop. "Did you wipe it clean afterwards?"
"What?" Luce's face reddened.
"Did you wipe it clean afterwards?" Mel repeated patiently. "I mean, you work on it every day. Imagine how many diseases and strange germs each of your, er, accommodating staff members were carrying when they placed their bare behinds on your desk."
The shock on Luce's face was priceless. He edged his chair away from the suddenly suspicious surface.
Demelza Carlton has always loved the ocean, but on her first snorkelling trip she found she was afraid of fish. She has since swum with sea lions, sharks and sea cucumbers and stood on spray drenched cliffs over a seething sea as a seven-metre cyclonic swell surged in, shattering a shipwreck below. Demelza now lives in Perth, Western Australia, the shark attack capital of the world. The Ocean's Gift series is her first foray into fiction, followed by her suspense thriller Nightmares trilogy. She swears the Mel Goes to Hell series ambushed her on a crowded train and wouldn't leave her alone.