1. What's something utterly weird or ridiculous about you?
Ana:
I like to eat my cereal out of a cup… rather, a big coffee mug. Lol *shrugs* Easier to drink the milk afterwards lol.
Neyra:
I wouldn't say it's weird, but it is ridiculous…. I'm still afraid of the dark sometimes >.<
Ning:
Well, I'm terrified of zombies. I know they're not real, but they just freak me out so much. If there ever is a zombie apocalypse, I'd just shoot myself and get it over with.
2. Where's your base?
Ana:
Country: United State of Awesome; State: Awesomeonia
Neyra:
California :)
3. If you could be anybody's sub, who would it be and why?
Ana:
Me? Sub? PFFT. *rolls eyes… coughs* Rhage *cough* BDB *cough* wheeew. Is it me, or is there a coughing bug going around?
Neyra:
I would love to be my lover's sub. He craves control ;) And, if we're talking fictional... I wouldn't mind being any one of Cherise Sinclair's or Kallypso Master's Dominants' sub, I mean, sexy doesn't even begin to describe these guys ;)
Ning:
Jericho Barrons. I know he's not technically a Dom, but still... I'm sure he'd know exactly what he's doing.
4. On the flip side, who would you like to Domme? (Real or fictional)
Ana:
*rubs hands together* Every single alpha-male on the planet? *shrugs* You know… just testing the waters ;)
Neyra:
Gideon Cross!! >.<
Ning:
Master Sinclair from Backstage pass. Magic mouth and magic fingers?? Oh yeah!
5. If you could hijack any love scene from any book you've read, which one would it be?
Ana:
OOOH. ANY and I do mean ANY scene from the Merry Gentry series. I mean, come on, that girl is one lucky princess. FFS, she gets to have hawt-have-you-panting-and-wanting-more orgies with her bodyguards!
Neyra:
THE HOT TUB SCENE!! - Cherrie Lynn... Need I say more ladies? ;)
Ning:
This isn't really a love scene, but I'd want to be Mac when she was lost in lust in the Fever series and had Barrons bring her back through months of satisfying her sexual hunger.
6. Have you ever dipped your toes in the lady pond?
Ana:
*coughs and looks at the sky* ooh it's a bird! NO, it's a plan! HELL NO! It's SUPERMAN!
Neyra:
*ponders for a moment* …I've kissed a girl and fiddled her skittle xD lol. So kidding, I've kissed a girl though. But, I'm all about the big strong, brutes that is man ;)
Ning:
Nope.
7. If you can swim in the lady pond with anybody, real or fictional, who would it be?
Ana:
just keep swimming, just keep swimming, just keep swimming, swimming, SWIMMING! I'd totally have to go skinny dipping with Mila Kunis. I mean, it should be illegal to be that damned pretty. *le sigh*
Neyra:
I've always had a girl crush on Angelina Jolie. And as of the Transformer's movie, Megan Fox. So, yeah :)
Ning:
Blake Lively
8. What's your bump and grind song?
Ana:
Oh… well, you see… there's a procession of songs… *puts in "Ana's Bump-N-Grind" CD and presses play*
Track 1: Sexual Healing – Marvyn Gaye (just sat down to dinner and we're playing footsie under the table)
Track 2: Pony - Genuine (this song is what sets the mood) he's horny, I'm horny, the song is horny… we can skip dinner and go straight to dessert…
Track 3: Peaches and Cream – 112 (I was serious about going straight to dessert)
Track 4: S&M – Rihanna (uh oh, my dom side decided to make an appearance
Track 5: S&M – Rihanna (yepp, looks like Dom Ana has the stage tonight
Track 6: Slow Roll It – Sheba Potts Wright (slowin' it down…stroking it with the motion xD)
Track 1: Sexual Healing – Marvyn Gaye (apparently my Bump-N-Grind CD is on repeat… therefore, we repeat xD
Neyra:
I don't think you've heard of them, but any one of Wisin y Yandel's song. I especially love
Te Siento
&
Me Estas Tentando
. These, are baby making songs I tell ya!!
Ning:
Rihanna Don't stop the Music
9. How do you like your kisses?
Ana:
Haha… I don't kiss and tell. Shame on you!
[Party pooper!]
Neyra:
Passionate, deep and with lots of yummy tongue (save the drool please).
He has me pinned to the wall, his body is flushed with mine and I can feel every delectable inch of him. He starts off slow, tasting, and teasing. His hands are on my hips working their way up and all over my body; as close as we are, he urges me closer. His kisses are growing desperate; they're becoming much more intense. He bites my lips and makes me…
Right, uhm… where were we…? >.<
Ning:
It'll start out real slow. He'll wrap his arms around me and pull me close as he bite my bottom lip a little. When I open my mouth, his tongue duel with mine. Then the kiss becomes harder and he hold me tighter... and we move on to bigger and better things (use your imagination).
[Whew!]
10. If you're to do a menàge, who would you do it with?
Ana:
Him, him and him… mmm…and him too. Oooh *points to the guy across the way* him too ;) is there a limit to this ménage?
[Damn, Ana, it's a ménage NOT a gangbang! Psh! Freak!]
Neyra:
*
looks around and makes sure she's alone
* Well, my lover doesn't like to share, but I'd love to be manwhiched with him, Gideon Cross, and Torin (minus the disease lol) and Thanatos, and Shade, and Wraith, and Kynan, and Zarek, and Evan and Brian, and… *
looks up to Braine and Cimmaro
n* Oh… you said ménage? Ooops, I'm having myself a fictional orgy here, aren't I? xD
[Damn girl! That's a party right there!]
Ning:
Joe Manganiello and Alexander Skarsgaard
[You have to fight both of us Supies for these guys]
... JZB and Gideon Crossfire (do I only get to pick 2? See #11)
11. Have you ever had public sex?
Ana:
Did I say I don't kiss and tell? Oh, well, I don't have sex in public areas and tell either. LMBO
Neyra:
Ugh, no never :( LOL I want to baptize a car at the moment though. Lol.
Ning:
Nope, but hmm, I've always wanted to do it in a car.
12. What's your dirtiest fantasy?
Ana:
To roll around in the mud lol
[smart mouth]
Neyra:
Besides my all-hot-brooding-men orgy? Lol... As of right now, the dirtiest fantasy I have is anal sex with my bf… while I'm handcuffed… and he's pulling my hair ;) No fisting though.
Ning:
We'd be in Gideon's office overlooking the NY skyline. I have Gideon under me and Acheron behind me. They're taking me at once and working up a rhythm that's driving me crazy. At the same time, Barrons is holding my head as I give him oral. We all have our clothes on. The guys are in their suits, with their shirts untucked and their ties loosened, while I'm still in my red cocktail dress. I have my hands tied behind me, so Acheron's arm is wrapped around my waist to keep me in place. There's a blindfold over my eyes so every sensation is intensified as they take their pleasure.
13. Weirdest request you ever got from a guy?
Ana:
OMFG. It was so weird, I auto-blocked it from my mind. Therefore making me not even remember what it was he requested. Oh, the joys of the powerful mind.
Neyra:
I don't think I've ever had a guy request something weird from me. Nothing that comes to mind anyways.
Ning:
can't really think of any.
14. Favorite part in the male anatomy.
Ana:
His
eyes abs arms ass penis hands
arrghhh *grunts in frustration* just one? ONE? ARE YOU CRAZY?
Neyra:
As impossible as this may seem, his eyes and smile :)
Ning:
Blue eyes. Gets me every time.
15. If you could read yourself into any sexy book, what would it be and which part will you play?
Ana:
See #5 – mhm… I'm tellin' ya… read those books. Having sezzy time with Darkness and Frost at the same time? *fans self* So totally taking Merry's part ;) That's a bad bishh right there.
Neyra:
Ooooh Sylvia Day's Crossfire series, I'd be Eva if only for the sole purpose of fucking, or, being fucked by Gideon Cross himself!
Ning:
See #5 but it would also be cool to go to Narnia.
16. Guilty pleasure aside from reading smut?
Ana:
Makeup! Nail polish! Lol. I'm a total girly girl.
Neyra:
Chocolate and Starbucks! Can't go long without either of the two ;)
Ning:
Watching Asian love dramas
17. What thing are you most fond of using in the bedroom?
Ana:
Me, myself and I. If you can't get the guy by yourself then there is something wrong, sweetie.
Neyra:
I tend to be very shy, sooo yeah I have nothing. How I seduced my bf? Well, only he can tell that story, and I'm making him keep it a secret! ;) LOL
Ning:
Red pumps, garters, fluffy handcuffs, vibrator
18. If you can ask any fictional character a question, who would it be and what will you ask?
Ana:
Okay, this one goes to Ana in the Fifty Shades trilogy… my question would be:
*switches to ghetto mode* Why is you *smacks lips* so damned weak guuuuurl (you gotta hold out the uuuurl part, makes a difference) damn. Grow a pair of fucking balls! *smacks lips, rolls eyes and pats weave*
Lmbo.
Neyra:
That's tough. Does it have to be just one? I'd love to talk to Masters Marco, Damian, and Adam...I'd ask Adam what happened to his back. Damian, why he keeps his distance. And Marco, Had it always been hard for him and his brother at home?Ooh, and while I'm at it, let me sit with Gideon Cross and ask him about his childhood and what happened to him that was so horrifying and made him crave control at all costs.
19. Have you ever been to a male strip club a la Magic Mike?
Ana:
Does watching Magic Mike count? Cause… if so, then yes… lol
Neyra:
Gahh, no :'( LOL
Ning:
Nope.
20. Favorite sexual position.
Ana:
Everything and anything? *looks around and shrugs* I'm uh… well, you see… *hears the dinner bell ringing in the distance* ooh look at the time, gotta go. Later folks ;)
Neyra:
Doggystyle ;)
Ning:
Reverse Cowgirl
Big thanks ladies for baring your naught side to us!
These three are super fun to follow, their tweet conversations never fails to have me rolling with laughter. Their blog entries are always honest, creative and insightful.
FOLLOW THEM!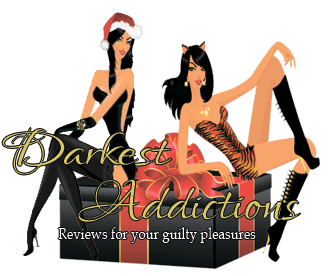 Ning used to have her own blog, Reading by Kindle Fire, but due to real life interfering with her hobby,
she recently joined Neyra in
Ana runs two blogs, one is for books and the other for her blog designs