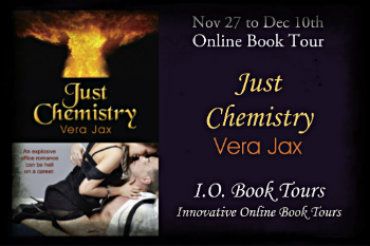 Series: Stand-alone
Format: ARC
Excerpt
Release Date: August 15, 2012
Purchase: Amazon | Barnes & Noble | Smashwords
An explosive office romance can be hell on a career.




Logan is powerfully attracted to the woman standing before him in the elevator. Minutes later he discovers that they have at least one thing in common: both work for Blue Dreams Marketing--he in the LA office and she in the Houston branch. And he is Sam's superior.




Sam is equally attracted to Logan. Not one to let opportunities slip by, she gets him to share a "lunch" where each is the main course. But Sam has worked too hard to jeopardize a career she loves for the sake of sexual chemistry. Everyone knows that sleeping with--let alone dating--a superior is bad business. Worse still is the fact that Logan is being considered for a promotion that may put Sam's job on the line.




Sam breaks it off with Logan. But he won't let her go, even after being presented with evidence that Sam is involved in another office affair. In the end corporate intrigue forces Sam and Logan to band together for the sake of their careers. Logan is determined to remain at Sam's side, but will she let him?
Due to the strong sexual content, this novel and the corresponding review is intended for readers 18 or older.
This is the office fantasy I have that never happened! Throughout this short novel I kept wondering why "Logan" didn't happen to me on all those years I was a corporate slave?! Damn! Those darn long meetings and business trips would've been way more interesting if I've been Logan-ed, tch!
JUST CHEMISTRY
, Vera Jax's debut novel is obviously habanero material, I swear her characters, like most people from erotica series', are superhuman. No mere mortal can have sex and achieve orgasm in quick succession not unless they have a rare dysfunction or something. I almost envy Sam for her athleticism and at the same time, I feel my body giving out imagining how exhausted and sated she must be after all those exhibitions with Logan and the endorphin overload that goes with it.
This woman is one hell of a good lay and I may just explode if I can't get her in bed again today. [Logan]
The story is a little predictable but I love the fact that it's straightforward. Right off the bat we know that it's just sex and chemistry for Sam and Logan, no strings attached nooners and booty calls, nothing complicated. It's just sex as far as these two is concerned so there's a feeling of flirtatious easiness and sexual intensity that pulls you in to the story. The situations and personal musings of both Sam and Logan are direct and funny it makes the story humorous balancing the quick romps these two were doing non-stop. Things got complicated when feelings started developing and office politics started getting in the way of their budding romance. Sam and Logan found themselves in the middle of a pending Board of Directors promotion, a case of sexual harassment, nepotism and blackmail.
You turn me on so f*cking much. You could be in a body cast and I would still get a hard-on looking at you. [Logan]
The resolution wasn't as airtight as I'd like for it to be, I think I was looking for more character development at this point, more emotional depth from Sam and Logan considering the events that led up to it. There were also some unreal and over the top scenes that bungled up the ending for me a bit like having sex after a head trauma injury (superhuman!) or beating up your boss' son-in-law for harrassing your girlfriend. But regardless of my nitpicking, JUST CHEMISTRY is a fun and sexy novel. I love how Sam is unapologetic about her sexual appetite and embraces her sensual side completely. I love how Logan is so indulging, attentive and became very protective of her. These two surely fired up my ereader and my afternoon, a great read to help keep the winter days a little warmer.