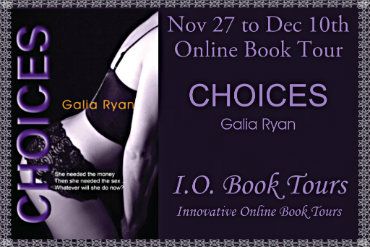 Series: The Luxuria Trilogy
Format: ARC
Excerpt
Release Date:
Purchase: Amazon | Barnes & Noble | Smashwords
She needed the money, then she needed the sex. Whatever will she do now?



Anna is broke. Really broke. Credit cards maxed out. Store cards, too. She can't make her repayments and there's nowhere to turn. Educated, intelligent, and—until recently—upwardly mobile, Anna is forced to make a choice. Sink or swim. And swimming means finding a part-time job to complement her full-time career. One that would pay enough to get her head above water. Except that part-time jobs don't pay. Usually. Drawn into the sordid world of private escorts, Anna discovers there is little she won't do for money, lots and lots of money. She even starts to enjoy the sex. Until she meets an unusually seductive client who introduces her to the world of Dominance and submission. Then everything changes.
For readers 18 and up
Looking at the blurb I expected
CHOICES
by Galia Ryan to be dark, suspenseful and thrilling or something fun and entertaining like
Secret Diary of a Call Girl
. We have a heroine thrown into the world of escort service because of dire financial straits. It's either going to be a tragedy or a romantic dramedy. Obviously I found it tragic but not in the way you might think.
So going into the story I found it fascinating and I felt Anna's trepidation. She's a prim and proper girl out to basically whore herself for money. The change in Anna's life is ginormous and that journey to sexual freedom sounds exciting and forbidding. For about 200 pages all I've read are about the different kinds of sexual service, from vanilla to kinky, that Anna provides for her clients. Later on it felt rudimentary and I honestly started skimming and skipping it. The contrast between Anna and Chloe (her escort alter-ego) wasn't as stark as I'd hoped it to be. In the end I'm not sure what to do with Anna, should I feel sorry for her or hate her?
Determined she would never know that he was as much her slave as she was his he planned to punish her for unknowingly breaking through the barrier he had erected. He would use her mercilessly and allow other to do so a well. He would humiliate her by f*cking other women in front of her. She would be his slut, his whore, his slave.
There were a lot of things that I found lacking in this short novel. One is the dry dialogue made slick by dirty talk. The characters are saying the same thing in different versions and their voices isn't as distinct as I'd like for it to be. Next is Anna herself, at first I felt bad for the kid but moving forward with the story she really started to get on my nerves. I didn't find one redeeming quality about her, she's capricious, cheap and stupid! Gah! Adam, the Dom, isn't seductive either, he's rich, manipulative and disgusting I don't know why Anna chose to be with him. Together these two to me looks more like a convenient sexual partnership than a romantic one. How can you love a man who pimps you out to another man like some brainless sex doll?! Finally there's no character development, the moral conflict was loose and the romance was nil.