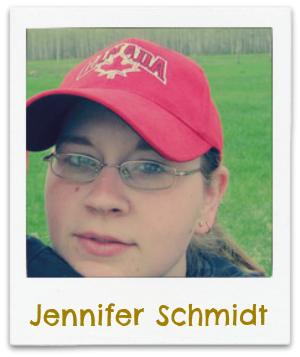 Talk Supe:
Hi Jennifer and welcome to Talk Supe, thanks for stopping by.
Jennifer Schimdt:
Thank you for having me as well.
Talk Supe:
What is the story behind
Risking It All
?
Jennifer:
Most people have that one friend that they've wondered "what if..." about--whether they admit it or not. Who better to fall in love with than someone you already care so much about; someone who knows and accepts you for who you are. But taking that leap can be scary. My first novel wasn't all the realistic with the plot, so this time around I wanted to write something that people could relate to.
Talk Supe:
Are the characters based in real life? If yes, who are the real-life Kennedy, Memphis and Ian?
Jennifer:
This question makes me giggle because for those who know me and know the story they automatically assume I wrote it based on certain real life events. But the answer is no. There are some similarities, yes, but I didn't write it with certain people or experiences in mind.
Talk Supe:
I read that you're aware people will hate Kennedy (guilty!), did you wish you made her likeable instead of what she is?
Jennifer:
Nope. I love Kennedy just the way she is. And I'll let you in on a little secret: I don't like her very much either *laughs* While writing her I seriously wanted to strangle her, but at the same time, while I don't agree with all her actions, I do understand where the character was coming from regarding how she felt falling for her best friend and not having a clue of what the hell to do.
Talk Supe:
Are you worried that people's feelings for Kennedy might impact how readers will rate
Risking It All
?
Jennifer:
Yes and no. I want readers to realize that there's more to the book than just Kennedy, but at the same time I know readers have to identify with the characters and like them enough to want to root for them. While editing, my fabulous editor pointed out that Kennedy's attitude could impact the ratings. I did consider changing her, and actually did try to rewrite some things, but in the end it just didn't feel right.
Talk Supe:
Ballsy sticking to your guns over ratings, but we approve of you not sacrificing your writing for the ratings.
Talk Supe:
We like doing casting couches here in Talk Supe, who do you want to play Kennedy, Memphis and Ian?
Jennifer:
From the minute I started writing
Risking It All
Ian Somerhalder was inspiration for Memphis. Katie Melua is exactly how I picture Kennedy but she's not an actress so I would have to go with Evangeline Lilly. And Eric Bana as Ian.
Talk Supe:
What did you find the most challenging while writing
Risking It All
?
Jennifer:
Believe it or not, it was definitely the sex. I wanted raw, emotional, passionate scenes that said everything they were too afraid to say. It took me days to write the first one; I was terrified of screwing it up and not having it portray the moment as powerful as it needed to be. After I wrote it I had a friend proofread it for me so I had an idea of how a reader would react. She's still talking about it so I guess it did its job.
Talk Supe:
I'm sure you've read about author meltdowns in Goodreads, how do you deal with negative reviews?
Jennifer:
I actually wrote a blog post about this not too long ago. Sure, negative reviews blow and in a perfect world everyone would love your book. But that's not realistic. Everyone has opinions and the truth is some of those opinions aren't going to be in your favour. As long as the negative reviews aren't too harsh, I try to take something away from them that I can make work in a positive way. What people don't like help me understand what to do or not to do in my next book.
Talk Supe:
What's your next project and can you tell us more about it?
Jennifer:
Right now I'm working on something completely different than what I've written before. I can't tell you much about it (mainly because I'm not even sure where it's going yet) but it is supernatural and does center around vampires. I'm taking it slow since it's a new genre for me to write.
FUN FACTS:
Favorite Lipstick or Lip Balm:
I never use lipstick and the only time I use lip balm is when I really need it and then I turn to good old Carmex. I hate having things on my lips
Flats or Stilettos:
Flats all the way. I'm so not girly enough to wear heels. Ever
Dream Destination:
Europe. Maybe somewhere in Italy or London.
Showers or baths:
Showers
Summer or Winter:
Can I pick option C and go with Fall? It's my favourite season, nothing beats it.
Thanks for stopping by Jennifer!
Thanks to The Writer's Coffee Shop we have a
This giveaway is open to everyone, near or far.
Please fill out the rafflecopter form and comply with the mandatory requirements for your entries to qualify.
Winner will be notified via email on September 19 and has 48 hours to reply to said email otherwise we'll pick another winner.
Good luck!