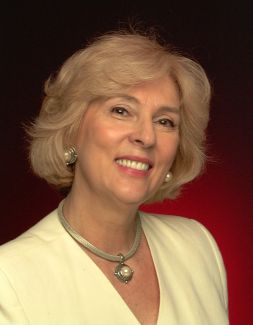 is the latest author to grace our blog today. Her latest novel
Kiss of Pride was just released last April 24
and I truly enjoyed her make believe world of Vangels and Lucipires in Transylvania, Pennsylvania.
What made you shift from contemporary and historical romance to the paranormal romance genre?
Actually, I started out in paranormal...Viking time travel romances. My first two were The Reluctant Viking and The Outlaw Viking. Thereafter, I've written time travels, historicals, and contemporaries, and now the Viking vampire angels. I will continue to write in the various genres. In fact, the book I'm working on now is straight historical romance, tentatively titled The Pirate Bride (the bride being the pirate, <g>)
I've seen that you have a Viking series and your new series, Deadly Angels, are also Viking themed. Can you tell us a bit about your love affair with these Norsemen?
First of all, I am directly descended on my father's side to the tenth century Viking Rolf the Gangr, first Duke of Normandy. Normandy was called Norsemandy in those days. And what's not to like about a race of men (and women) who were tall and incredibly good looking? No wonder women of various lands welcomed them to their beds. (It wasn't entirely due to their washing more often than Saxon men of that time. <g>) They had marvelous senses of humor and an incredible talent for laughing at themselves, asevidenced by their sagas. Brave warrior. Great lovers. A love of the law (many English laws originated from the Viking Things) and fine arts (their sagas were remarkable literary achievments for that time.
Does this mean you're a viking princess several times removed?
A Viking princess? Only in my mind. Too many generations back for that.
Have you visited Viking countries?
No, I haven't visited the Norse countries. Wish I could. The pictures of the mountains and fjords are so attractive. I often get brochures from travel agencies advertising Viking Cruises. That would be the way to go.
Can you tell us more about Kiss of Pride and this new world you've created in Transylvania, PA?
God is mad at the Vikings. They've become too arrogant and bloodthirsty. Plus they're worshiping false gods (Odin and Thor). And God is especially angry with one particular Norse family, the Sigurdssons, and the seven brothers who are each guilty of committing one of the Seven Deadly Sins in a most heinous manner.
As a punishment and to serve a certain cause, God assigns St. Michael the Archangel, patron of warriors throughout time, to develop a band of Viking vampire angels (vangels) to fight the demon vampires (Lucipires) who are roaming the earth doing evil works.
But after a thousand or so years, Michael decides they need a headquarters and he sends Vikar Sigurdsson to restore a castle in Transylvania to its former glory. But not Transylvania, Romania. Nope, this is Transylvania, Pennsylvania, and what a wacky tourist trap of a town this is that is piggybacking on the vampire craze storming the country.
In this first book of the series, Kiss of Pride, Vikar faces many problems, the least of which are a ton of guano, a young vangel who thinks he's Michael Jackson reincarnated, a cook named Lizzie Borden (the real LIizzie Borden) and six brothers who are driving him up the moldy castle walls. But then Alexandra Kelly, a nosy magazine reporter, comes on the scene, and he is faced with the greatest temptation of his sorry life. Laughter and sizzle guaranteed.
A Vangel is a new, incredibly unique being in the paranormal romance world. How did you come up with this combination, and what about it do you think will appeal to readers?
I was asked to come up with a new paranormal concept, in addition to my regular time travels. I decided on vampires, but the good Catholic girl in me couldn't write about a dark vampiric world that was not created by God. Don't get me wrong. This is not a religious novel, and I certainly hope it doesn't come off as preachy. How could they with Vikings being the angels?
What will appeal to my readers?
These vangel books will contain my trademark humor and sizzle. And those who have been longtime readers know that many of my books have little religious hints, like a God with a sense of humor, or Tante Lulu's favorite St. Jude.
In addition, books two and three in the series will take place in settings familiar to my fans...the Navy SEAL training grounds in Coronado, California, and the bayous of Louisiana. Beloved characters will show up, like Cage, JAM, Sly, F.U. and Max in Kiss of Surrender and Tante Lulu and the LeDeux gang in Kiss of Temptation.
Can you share with us the plot summary for Kiss of Surrender?
Well, here's the back cover blurb, if that helps.
It's not easy being a Vampire Angel
No one knows that better than Trond Sigurdsson. In the centuries since he last went out drinking and wenching with his Viking buds, Trond has been a gladiator, a cowboy, a ditch digger…even a sheik. But now he's the baddest of them all: a kick-butt Navy SEAL kicking butts of terrorist immortals with the help of his hotter-than-Hades female partner, police officer-turned-Special Forces operative Nicole Tasso—whom Trond dearly hopes to "partner" with very shortly in a whole different way.
It's not easy being a Vangel's lover
The "cop" part of Nicole tells her there's something bizarre about her gorgeous godlike teammate. But her "all-woman" side can't help wondering how great it would be to have a virile Viking in her bed. Trond has secrets galore, but Nicole feels certain she can dig them out—and really get to the heart of this powerful, unnerving stranger whom she may be risking her soul to love.
As always, I wish folks smiles in their reading. For more information about my books, check out my website at http://www.sandrahill.net/, or see me on Facebook at Sandra Hill Author. I have an exciting new online contest coming up soon that will offers lots of beautiful angel wing jewelry. Check my website at a later date for more details.
__________________________
Thank you Ms. Hill for dropping by our blog and we are certainly looking forward to reading more books from you.
We are giving away a copy of
click here for more details.