The Crawleys
If you're historical fiction junkies like us, we're pretty sure you've heard about the phenomenal show
which swept England, the US and Australia with their fabulous costumes, aristocratic etiquette and personal intrigues. Don't you just love Maggie Smith's comebacks?!
Set in the early 20th century encompassing until shortly after the first World War,
we follow the tumultuous lives of these sisters as they try to navigate the world of nobility and follow its strict archaic rules in an ever changing world.
But aside from the aesthetics, the portrayal of the classes and the drama that accompanies it will certainly tug at you. And though Lord Gratham and his household do their best to lead honorable lives as their class dictates, they are still fallible. It's when they fall a step from grace that makes them even more endearing and human to us.
Lady Sybil Crawley
The youngest of Lord Gratham's three daughters, Sybil is the most free spirited and rebellious of the lot. She studied as a nurse and cared for the wounded soldiers of WWI despite objections from her family. She also expressed interest in politics, equality among the classes, women's suffrage, fell in love and married their chauffeur, Tom Branson. As you know, marrying behind your class is serious taboo but Sybil remained steadfast and fought for her family's blessing.
The middle child which has deep seated insecurities for her sister Mary. Fearing that she'll end up a spinster after Mary sabotaged a previous planned proposal from Sir Anthony Strallan. She also developed feelings for Mary's previous fiance Patrick Crawley but that relationship was once again nipped in the bud. Perhaps the lowest point was when she got involved with a married farmer, Mr. Drake. Edith's story line is not as colorful as Sybil's nor as intriguing as Mary's however her resilience and grace is admirable. I hope she meets someone special in Season 3.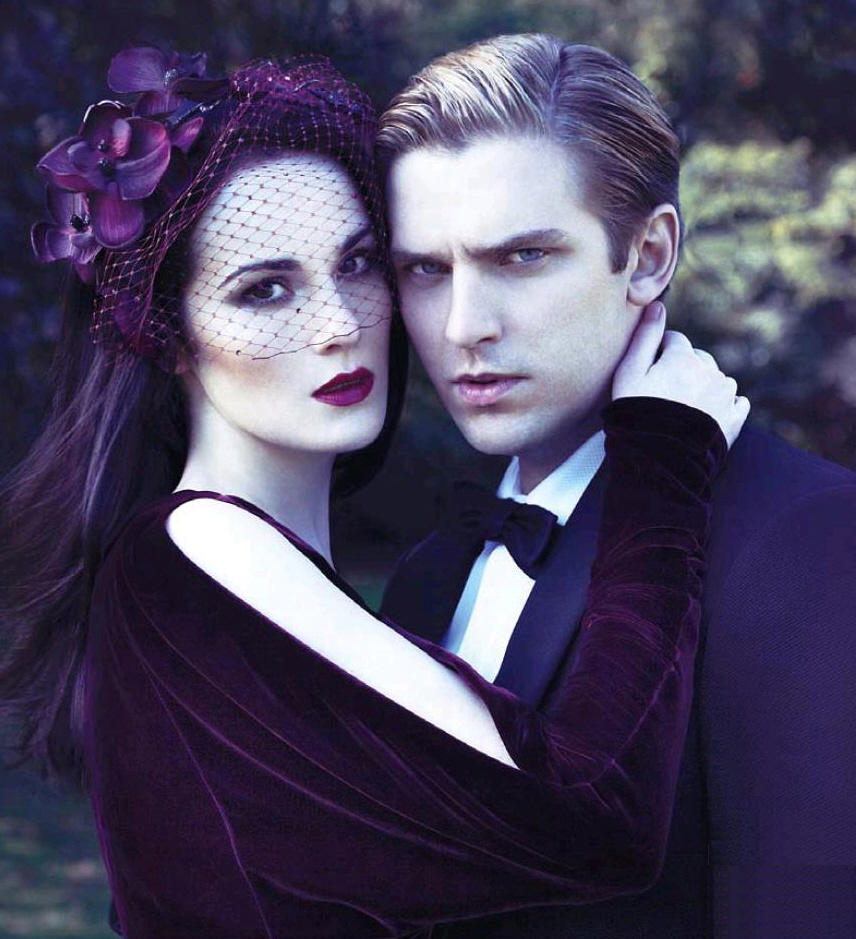 Lady Mary Crawley
The resident Femme Fatale, Mary's romantic entanglements will make your head spin. From Patrick Crawley who died in the Titanic; to the Turkish Ambassador's son, the handsome Mr. Kemal Pamuk who died a happy man in Mary's bed; to her cousin and future heir of her father, Matthew Crawley; and a brief business engagement to newspaper magnate Sir Richard Carlisle.
She'll probably got under your skin in Season 1 but her honesty and loyalty surely won you over in Season 2. Good thing the cat-and-mouse chase between Mary and Matthew has finally come to a close and hopefully we'll see a wedding next season.
Matthew Crawley is so dreamy don't you think?
Le Sigh...
Too bad we have to wait a little bit for season 3, Shirley Maclaine and the wedding (?) but we here in Talk Supe got too nostalgic and decided to take a trip and make believe we're in Downton Abbey.
You probably know that we took a little trip to
Biltmore Estate
in Asheville, North Carolina, last week.
It might not be
Highclere Castle
in Newbury but it's the closest thing we have stateside.
Fortunately we remembered to raise our pinky during high tea and what fork to use during meals.
But we still gaggled like commoners while doing it.
:D